A trek up the hillside mountains and villages of Annapurna Base Camp in Nepal is one of the most epic experiences one can take. An amazing and powerful 8 day, 64 mile, 4130 meter (13,549 foot) climb high to the heavenly, Misty Mountain base camp.
They say "You don't climb a mountain to conquer the mountain. You climb the mountain to conquer yourself."
My Soul Journey Up To The Misty Mountains
Surrounded by the incredible views of the Annapurna Mountain ranges and Mt. Machhapuchhre (Fishtail), led by a compassionate and strong "Little Buddha" of a guide and paired with a fellow Kundalini Yogini trekking partner; not only did I climb to the base of the mountain, but I traveled to the core of my soul.
Just Like Heaven
A trip through the circuit is a magical journey through some of the world's most glorious nature. Every step of the way is like candy for the eyes. From the landscapes of towering waterfalls, roaring rivers, luscious terraced fields to the wildlife of Himalayan Tahr, beautiful blue sheep, colorfully adorned mules, massive oxen and yaks, angel like flying hawks, tiny brightly painted birds and quaint villages with kind local villagers.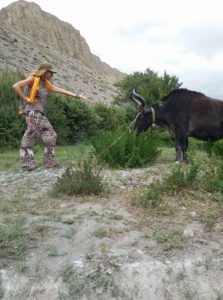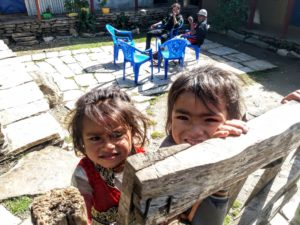 Our  days began at the ambrosial hour of 5am where my trekking partner and I performed our morning Sadhana, (meditation and yoga practice) followed by breakfast and masala tea. We would then trek anywhere from 4-11 hours, climbing up and down the trails, valleys, villages and mountainsides. Having just come out of a 10 day Kundalini Yoga Mind and Meditation course at a Tibetan Buddhist monastery, we agreed to do our trek mostly in meditative silence. In doing so, I was truly able to feel what is to be ONE. To let go of duality and to integrate with God and Nature. I felt filled with overwhelming gratitude for this gift of life. My mind was humming in a state of pure neutrality.
How To and Who Can Do It
Although the trek is physically challenging, if you are in reasonably good shape, it can be done by most. I must say though, I was grateful for my yoga practice, which helped me hike up the hillsides and abundant tiny steps embedded in mountain trail. The trek can easily be done without a guide. Back in 2009 I trekked to Poon Hill without one, but on this one, my trekking partner wanted a guide, so I agreed. I am glad we chose one. Ajaya, who I nicknamed, "Little Buddha" was a wonderful! He carried our sleeping bags and down jackets, outlined our days, made adjustments as needed and was a huge part of the spirit of the journey. Without him, I'm not sure that my experience would have been as profound. You can expect to pay anywhere from 1300 – 2500 Nepali Ruppees per day for a guide. Which is $13-$25 US dollars a day. There are travel agents all over Kathmandu and Pokhara offering these services. Or you can hire an independent guide and thus eliminate the extra agency fees. Your guide or agency will arrange your itinerary, travel and accommodations, set up your trekking permits and suggest what to bring.
What You Need
If you go on your own, you can arrange your trekking permit from Pokhara. You may also rent or buy your gear and clothes at one of the many trekking shops in Kathmandu or Pokhara. I went in late May. The weather was nice. Hot days, cold nights, some rain and snow at Base Camp. I rented a sleeping bag, down jacket, waterproof hiking boots and trekking pools, which saved my knees and kept me standing on the sometimes wet trail. I bought two pairs of wool socks, a pair of snow gloves and two pairs of trekking pants. You will also want to bring a hat, scarf, two synthetic T- shirts that won't hold sweat, a tank top, sports bra, a warm fleece or pullover, rain jacket, poncho and rain pants, long johns to sleep in that can also be worn under clothes on cold mornings and evenings and a pair of shoes or sandals for the night. Other than that, I had a mixture of protein powder, spirulina, chia seed in a zip lock bag, a bag of muesli for snacking, lip balm, IB-Profin, aspirin, sunscreen, arnaca and a plastic waterproof cover for my Samsung smart phone, which I also used as my camera. That was pretty much it. You may wish to bring along your camera. I wish I did, but my Canon D3 camera is a little big and heavy and I wanted to keep my backpack light. Have waterproof slip covers for your backpacks and keep a plastic bag as a liner for the inside of your pack. It will save your belongings in the rain.
How To Get There
You can get to the trailhead easily from Pokhara. Just a 30 minute drive to Nayapul via a hired jeep or taxi. You should bring around Rs 2000-2500 a day for food and accommodations. My trekking partner only brought 2500 RP in total!!! So I pooled my money with hers. But that left me with not enough cash to get me though the trek. Fortunately, Ajaya, our "Little mBuddha" of a guide, kindly lent us some money. So we pooled it all together and had just enough if we stayed on a tight budget. We had to be thrifty with eating and sleeping. It was kind of fun. It made me grateful for each meal I had as we carefully rationed our daily expenses.
Overview of the Meditative Journey

Day 1 – Trek to Ghandruk
We arrived to Pokhara the previous night from Kathmandu. I think we paid around $10 US dollars for the tourist bus. The bus left at 7 AM and we did not arrive into Pokhara until 5 PM. But we did have a 3 hour delay due to a road close from a landslide. We also stopped for a 20 minute lunch and another 10 minute rest stop. We spent the night in Pokhara where I got last minute gear – Rented waterproof hiking boots and a new pair of hybrid trekking pants that zipped off into shorts for the hot days. I recommend both!
We hired a private car to take us to Nayapul at the trail head. Our first day of trekking was five hours. It was easy walk. The trek takes you along a river and across a very long, swaying suspended bridge.  Since it was May, the weather was hot but we had a little refreshing rain. My trekking partner was talking a lot with our guide and I was still in a meditative mood from the Mind and Meditation retreat we had both just finished. So after an hour, I asked her if we could implement a silent walking meditation. She happily agreed. For the next hour we walked in peaceful silence to our lunch spot. In the quiet sound of silence, I was completely present to the nature around me. I felt the earth with each step of my feet grounding me as I watched the butterflies and birds flying around me. We stopped for lunch in the village of Klue. Lunch was tasty. I had veg and cheese momos and masala tea. Momos are my favorite Nepali dish. They are hand made, doughy, pasta like filled dumplings. You can get them stuffed with veggies, cheese, potato and meat for those who eat meat. I've been a lacto-vegetarian since I was 17. I still eat eggs, cheese and yogurt from time to time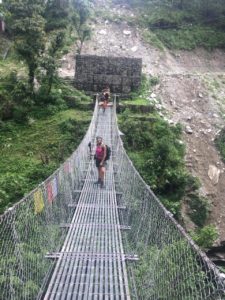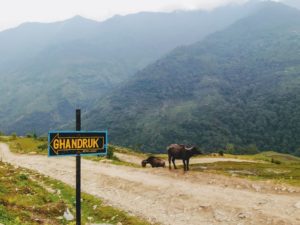 We still had 3 more hours to our first guest house, The Rhodie, in the cultural village of Ghandruk. Ghandruk is one of the two largest Gurung villages in Nepal. The Gurung people are a Buddhist, ethnic group who migrated from Tibet in the 6th century. From the village, you see stunning views of the Annapurnas, Machhapurchre and the traditional roof-top houses clustered on the canyon wall along the terraced lands where wheat and barley are grown. Already I could feel the spirit of this magical land. Tired from the driving and 5 hours of walking, I enjoyed a traditional bowl of Veg Thukpa soup for dinner and retired to bed at 9 PM.
Views from Ghandruk
Day 2 – To Chomrung
Our alarm went off at 4:45 AM. We immediately went into our morning meditation which entailed 37 and a half minutes of Long Ek On Kaurs. This is a powerful Kundalini Yoga meditation which is part of my 90 sadhana. The Kundalini Yoga master, Yogi Bhajan taught this meditation almost exclusively during his first year in the United States back in 1969. It was also his main personal practice. It is extremely powerful and energizing. I'll create a video blog on this meditation in the near future. It has been said that a person can attain liberation by chanting this ashtang (eight-part) mantra for 40 days, for two and one-half hours before sunrise (the ambrosial hours). As for my commitment from my Mind and Meditation Teacher's course, our group is doing it for 90 days for 37 and a half minutes. After our meditation, we were greeted by incredible early morning sunrise views of Mt. Machhapurchre, which displayed a radiant aura off of her signature fishtail outline. Photo below.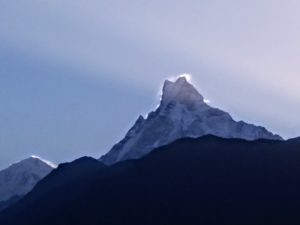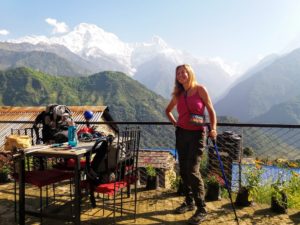 With a full belly of apple banana porridge, black tea and a clear mind from the morning meditation, we were off. It was four hours until our stop for lunch. In our meditative walk, we encountered teams of mules colorfully adorned in traditional hand-made, embroidered accessories with bells around their necks that sang melodically on their walk. Many had been carrying heavy loads supplies up the mountain. I've always been sensitive to animals. I know mules are strong, but I felt how tired they must be with all the work. I sent each one of them reiki energy and gave them a prayer as they passed by.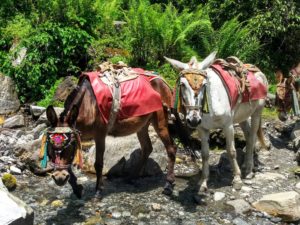 After an hour we stopped at a fresh water river to cool off and soak our bones. My knee were giving me some issues and the ice cold water was healing and refreshing. I sat for a while with a sweet mute/deaf villager. We spoke with our eyes and no words. He was a kind and gentle soul. I offered him a few rupees after I chatted with him. He smiled with his heart as I offered it.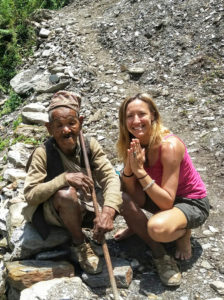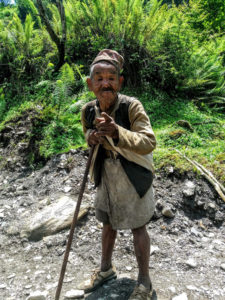 We still had three hours to reach our next stop for the day, The Heaven View Guest in Chomrung. It was a LONG 3 hours. We had many stairs to hike up the mountainside. I personally find the stairs harder than climbing the natural terrain. Along the way, a painfully thin, stray dog joined us. He walked up the trail with us for hours. When we arrived, I had a bowl of soup. I wished I had extra cash to buy him a meal, but as we had only just enough to get through the trek, there was not a cent left for extras. So instead, I shared my soup with the doggie. I had some protein powder I brought along. I made sure I had a scoop to replenish my energy. It was only one day and the poor doggie was hungry.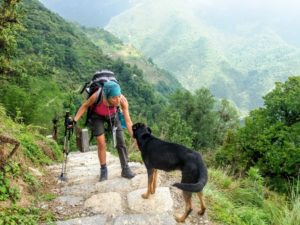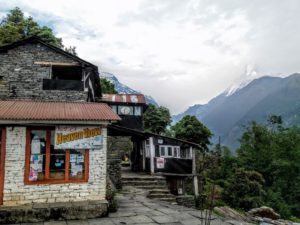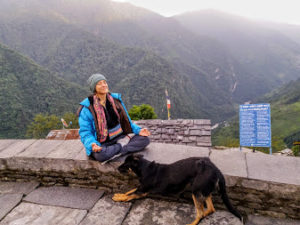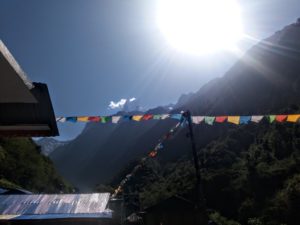 Dogward Dog: Doing meditation and later giving reiki to my doggie friend
After my afternoon meditation, the sun was casting a luminous silvery glow on the signature fishtail of Mt. Machhapuchhre. It had been a long day and I was exhausted from the arduous climb in the rain. I went to bed early so I could be ready for the next day's trek. I looked for my doggie at breakfast, but he had left in the night. I sent him a prayer and off we went.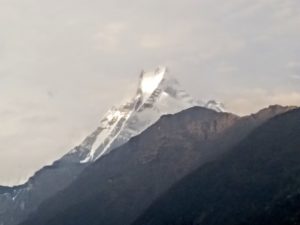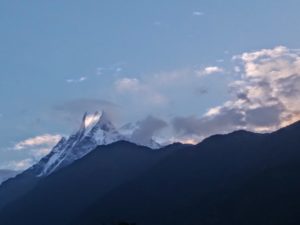 Day 3 to Bamboo
We embarked for our trek to Bamboo Village at 7:20 AM after meditation and breakfast. This trek was much easier for me but harder for Laurie. I had gone on ahead at a quicker pace and was about 20 minutes ahead of them. Laurie's eyesight is not so good and apparently she had fallen down the hillside. She had a long tumble but thankfully she was not hurt. She gave our guide Ajaya a scare and he stayed very close to her for the next days. He asked me to stick close to them also, but I was finding it difficult to walk that slowly. So onwards I went. This gave me extra time to sit alone by passing waterfalls and rivers to chill and meditate while waiting for them to catch up. The trek to Bamboo was another series of long climbs up and down. The sun was hot. I walked mostly a tank top and shorts. Leaving early allowed us to beat the rain storms which were coming daily between 1 and 3 PM.
Note: In the quiet mountains outside of the villages and cities, where you are mostly alone or with other trekkers, it's ok to dress in shorts and tanks, but in the villages, towns and cities, be sure to cover up legs and shoulders. Nepal is a modest country and although some travelers dress skimpy, it's somewhat disrespectful to do so in Nepal. Be mindful and use your discretion.
Bamboo is situated by a river and has a cluster of guest houses and gardens growing fresh vegetables. We stayed at the Buddha Guest house. There were many trekkers staying here. I saw a few injured ones. One young European guy had pulled a muscle and needed to stay for a few days to recover. Another girl, who was wearing regular running shoes, had a huge nasty blister on her toe. I was glad I had a good pair of trekking shoes and no major injuries other than my aching knees. When we arrived at the Little Buddha guesthouse, I was pretty tired. I ordered my favorite childhood comfort food, mac and cheese. It had been a years since I had this dish Yum!  Exhausted from the trek and in a carbohydrate coma, I fell asleep right after lunch.
A few hours later, I woke in a cold sweat from a nightmare where I was faced by an old, yet familiar ghostly demon. In this dark dream, I gasped and said, "Oh no, not you again." Then the ghost gave a maniacal laugh and said, "Time for you to die".  As I awoke I felt that yes, perhaps I had died and so had the old demon. It reminded me of my favorite poem from my dear sage of a yoga teacher, Guru Singh:
"Everything's dying to be reborn
Infant day is the early morn
It's dark as night when the day shall end
And Into the light you'll be born again"
I felt like a caterpillar coming out of it's cocoon, spreading her wings in her new and complete transformation… Metamorphosis. I was trying to recall more of the dream, but Ajaya was knocking on the door to check on us and Laurie was asking him a series of ongoing questions about dinner and the trek. It seemed like her endless questions was out of a nervous anxiety. I recalled back to my corporate days in New York when I had that same nervous anxiety. I was grateful that I was in a state of peace. I had no questions, I need no answers, I just was… completely present. Ajaya, being the perceptive little Buddha of a human spirit that he he, could see there was something going on with me. He asked me if I was alright. I just gave him a slight smile and said, I'm ok. I just had a bad dream. Sensing that I needed space, he asked Laurie to step outside of the room so I could be alone. I spent some time in quiet reflection and fell back asleep. I woke up at 7 PM, skipped dinner and meditated for another hour and was asleep again by 9 PM.
Day 4 – To Deurali
We woke up while it was still dark for meditation. The air was crisp and my mind felt pure and clear. The effects of chant from our meditation were vibrating throughout my body and skull. I could feel the energy rise up my spine to my crown and then flow down, grounding me down to mother earth. It was like I was melting into the rocky earth and misty air. Like a shooting star in the immense cloudless sky. Ahhhh, oneness. Consciously and silently clear.
By the time we finished meditating, the others in the guest house were rising and so was the morning sun. We left for our trek to the village of Bamboo at 7:20 AM. Still profoundly affected by the morning's experience, I walked ahead and just gazed in awe at the magnificent scenery. Everything looked different. I mean, the whole world was the same, it was exactly the way it always was, but the way I saw it was totally different. I was looking at it from a different set of lenses.  On the walk I saw a tiny, brightly colored, turquoise bird. I realized how much beauty is missed by getting caught in chatter and chaos. Chaos of the mind, the chaos of distraction and useless chatter. Having spent most of my life living and working in the busy radio advertising world of New York City prior to moving to Los Angeles and now Thailand, I was keenly aware that there were still old stories and patterns that needed to be shed. Many of us, me included, keep ourselves so busy. Busy with the drama and the illusionary stories of our mind. We are so busy creating what we think our lives should be. It brought me to a Tom Petty song – Here Comes My Girl
"Every now and then, I get down to the end of a day,
I'll have to stop, ask myself, "What've I done?"
It just seems so useless to have to work so hard,
And nothin' ever really seem to come from it…
Yeah, every time it seems like there ain't nothin' left no more,
I find myself having to reach out and grab hold of something
I just catch myself wandering, waiting, worrying
About some silly little things that don't add up to nothing"
Life can get like that. In our journey of human existence, we get lost in the matrix and miss beautiful life that is right in front of us. As I walked on, I was so present. I viewed the world around me. From the most minuscule details such as an army of tiny ants, teaming up in an organized fashion to carry a large, dead insect to their home, the beautiful turquoise bird that I would have missed had I been talking, the lush green trees, the small intricate insects, the natural black tourmaline crystals that formed into the rocks. The land was so alive, so vast and splendid. I felt as small as the ants and as large as the mountains. Pure integration. Physically, the trek from Bamboo to Deurali was the easiest so far. Not too many of those tiny stairs carved into the hills. The trail was mostly in nature. I had no knee problems. Perhaps it was the reiki, perhaps the meditation or nature, I'm not sure. But I felt strong and fit.
I was so far ahead of Ajaya and Laurie that I stopped by a stream to meditate while they caught up with me. The meditations were getting stronger while out here. The 37.5 minutes of Long Ek One Kaur chanting seemed to fly by and messages of awareness were being downloaded as though my human system was undergoing a complete system upgrade. After the meditation, I sat back in gratitude. I was so grateful to have been given this time and space to explore my inner self in the beautiful nature in this spiritually, powerful land. I was a long way from New York. A brief memory came back to me of sitting in my Manhattan office at the radio station years before when I prayed for a moment like this. Miracles do happen! Lives can change. I'm still grateful for those big city, New York days. I had some amazing experiences and successful career, but also a lot of pressure and stress. It served it's time and place. I would not be here today, if not for the time I had there. It was all part of the journey. And for this, I was grateful.
"Only if you have been in the deepest valley, can you ever know how magnificent it is to be on the top of the mountain." ~Richard Nixon.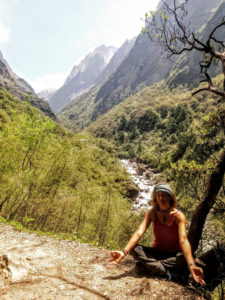 We beat the rains again. A hard, cold rain was coming down as we sat for dinner by the roaring riverside Shangri-La guest house. I chatted with the Inn keeper as I ate momos and drank masala tea. He was about 30 years old, I believe. But it's hard for me to tell age. We talked about his family and his experiences living up in the mountainside village. He had a simple but pure life. As an only child, his main focus was providing for his mother. Families are more tight here in Asia than in America. Typically in the United States, we leave home at college and are then off in our own worlds. We love our parents, but we are more independent. I thought about my mother. How much I loved her and that I had probably call her as soon as I had stable Wi-Fi. A little while later some trekkers came into the dining room. They were excited and talking loudly, so I retreated to my bedroom to read my book, "The Monk Who Sold His Ferrari", and then went to bed.
Day 5 – To Annapurna Base Camp
I woke up at 5 AM. Had another weird dream. More old stories were rising to the surface. As they came up, purged them and threw them out like garbage. I worked it all out in my morning meditation and let them go. Speaking about garbage, I was shocked to see how some people thought it was ok to leave their trash up in these incredible mountains. Along the way I started to collect all the trash I could fit in plastic bags that I found. As the other trekkers saw me do this, it inspired them to do the same. Collaboratively, Ajaya, Laurie and others all pitched in to clean the trails.
The morning trek was filled with the most incredible views imaginable. It would take us 5 hours to get from Deurali to ABC. Our walk was breathtaking. We were situated in a valley in between the high mountains. There were massive, cascading waterfalls on our left and right, a roaring river along our side and the beautiful snow capped mountain top of Annapurna in her full glory facing us the entire day. Along the trail were little clusters of purple, lavender, red, yellow and orange flowers. I came into contact with another tiny bird in a rainbow of bright colors. She had a black head, red neck, yellow and orange throat, green belly with black wings. She was flying into the blossoms of pink flowered trees. So small and so easy to miss. I watched her for sometime. My Samsung J5 smart phone could not capture her so clear. But her memory will forever be imprinted in my mind.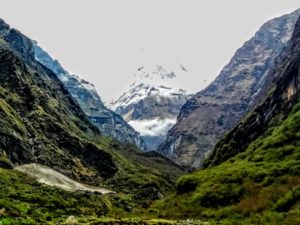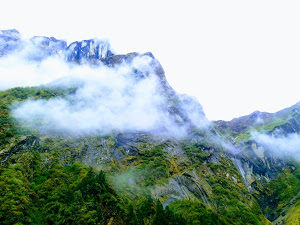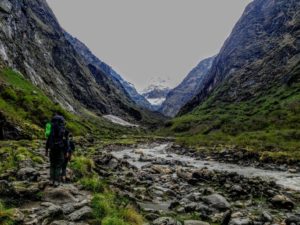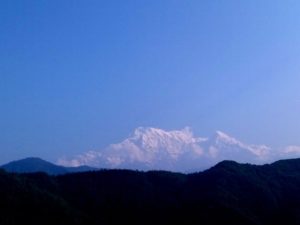 We stopped for lunch at MBC – Machhapuchhre Base Camp. I spoke with a couple, a Russian woman and her American husband, as I ate my cheese omelette. We decided to keep trekking and go straight to Annapurna Base Camp. The air was much cooler and thinner as I walked along the snow covered trail, alone, ahead of the others again. A few hours later, maybe less, I can't remember, I arrived! Success!!! I waited by the Base Camp sign, dancing in the snow until Ajaya and Laurie arrived. I was feeling FULL POWER! The air was full of mist and I felt spirit surround me. The feeling was indescribable. Euphoric… Nirvana.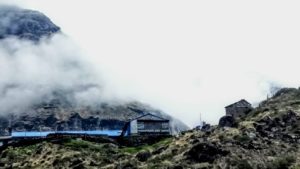 After a group celebratory dance at the sign and snapping some photos, we walked to the Guest House of the Base Camp. Laurie went to the room and I sat with Ajaya. He and I shared life stories. He told me about his voyage in becoming a Tai Chi Master and Trekking Guide. I spoke with him about my journey in radio advertising and leaving it to become a yoga teacher and energy healer. We shared photos of our families via Facebook. We had both lost our fathers and discussed how that was a turning point in both of our lives. I told him about my first trip to Nepal back in 2009 shortly after my father died. How I was so lost and confused at the time. Not only had I just lost my father, but that year, my beloved cat of 19 years and my 13 year old angelic, chocolate Labrador also died. To put the icing on the cake, the U.S market had just crashed, I lost my job and was basically losing my faith and courage. My dark night of the soul! Not knowing what to do or where to turn, I bought a ticket to India to further my yoga teacher studies. After the yoga teacher training, the hectic energy and pace of India was getting too much for me. Since Nepal was so close, I bought a ticket out here to chill out. What I thought would be a 3 day trip turned into one month of bliss. I told Ajaya that on that trip, I fell in love with his country. How it immediately grounded me. It was here, that I first learned how to do reiki. One of the spiritual tools that continues to be an integral part of my healing and spiritual journey. He asked me if we could make a video about my experience in Nepal. I happily agreed. So sitting on a bench on top of the misty Annapurna Base Camp, we made a 5 minute, one shot interview. I could see his face light up when I spoke about my love for Nepal. Especially when I gave the acronym for Nepal: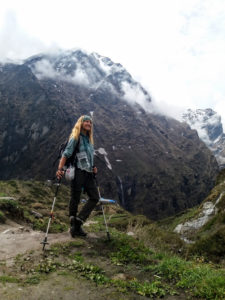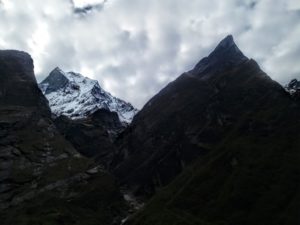 N ever
E nding
P eace
A nd
L ove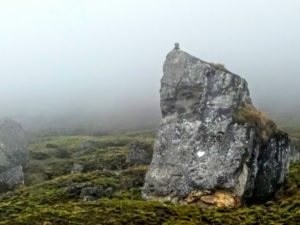 Laurie came out while we were watching it. She remarked on how peaceful and integrated I looked. How I had seemed like a different person even in the two short weeks she had known me. It was true. The changes were coming at a rapid pace. There is something about this country that does that. Maybe not for everyone, but if you are ready for it and are committed to doing the inner work awakening shall come. After all, it is the birthplace of the Buddha. The energy can not be denied. I prayed I could keep this peaceful, easy feeling forever.
Here's the video
For Every Action is an Equal or Greater Reaction
I fell asleep early, only to be rudely awakened by an intense migraine. It felt like something was squeezing my head and that it would explode. Altitude sickness! We were high up at 4100 meters. I tossed and turned in my bed for some time, then took a paracetamol pain killer that I still had from the hospital, but never taken after a fall off my motorbike in Thailand. After years of being over prescribed pharmaceuticals when I lived in America, I almost never take them. I wished I hadn't taken this one. It was not the right pill and not the right time. My stomach was empty as it had been a long time since dinner. Fifteen minutes later, I ran outside to the toilet and began to vomit. I was running a fever, in pain and sweating like crazy. It was now 2 AM. I woke Laurie and rushed to find Ajaya. He took my pulse and checked my eyes.
"Altitude sickness", he said. "We have to get you down". Do you have enough strength to walk down?
"Yes", I replied.
"Ok, get your bags, let's go."
As soon as we walked outside, a wet snow storm started to fall from the sky. He looked at me, I looked at him, we gave an mutual nod and on we went. He carried my bag as well as his belongings, all the sleeping bags and some of Laurie's stuff. She stayed behind as she had bad eye-site. She said she would meet up with us the next day. Ajaya told her to wait for us in Deurali.
We both had torches, but the dark night and storm made it difficult to see. The path was covered by the snow and it was hard to know if we were on the correct course. All I could see were the reflective lights shining off of Ajaya's hiking shoes. As we walked on in the darkness, I really thought that I might die here. Sometimes I am so obstinate. I did not want to call for a helicopter, nor did I take altitude sickness pills for the trek. I am always trying to use my own personal power. But most of the other trekkers had taken the altitude pills either. And they were ok. It was just my luck. Maybe I didn't drink enough water during the day. It was cold which made it less inviting to do so. But here's the interesting part. During our descend, I wasn't scared, I wasn't freaking out. I remained calm and peaceful. I trusted in God and trusted in and my "Little Buddha" of a guide. He kept turning around to ask me if I was ok. "I think so", was my constant reply and the only words I spoke during that descend. I did pray a lot. I prayed to God, Jesus, the Angels and every spirit guide I have come to know. I turned on Reiki and allowed it's universal life force energy to flow through me. The wet snow was hitting my face, but my body had gone into warrioress mode. It carried me valiantly thought the night as I reflected on my life.
It's interesting, the thoughts that go through your mind when you think you are going to die. I was grateful for all of my life. For every experience. I thought to myself, if I actually die at this moment, there is really nothing that I missed. I lived a very rich and colorful life. Years of highs and sure, some years of lows. My radio career allowed me to experience life in the fast lane and my yoga journey grounded me down, thanks to the guidance of the master teachers, gurus and many students. I had experienced great loves that lit the light of my heart and painful breakups that forced my heart to crack open and bleed on the floor. And the past two years, living abroad and traveling across SE Asia were a dream come true. A freedom ride, breaking out of the spoon fed societal chains. I lived out the "American Dream" and then bravely walked away from it all to follow my own path and discover my soul. After such a long ride on the ever changing waves of life and love, I was now finally in a state of neutrality. This was it, I guessed. I asked God to give my mother the strength to survive if I died. I knew she would be devastated as any mother would. And she already lost my dear father after his 10 year battle with ALS. I wished I could get a message to her and tell her not to be upset. I wanted her to know that I celebrated life to the fullest and that she gave me the courage to blossom into the woman that I had become. The movie "Everest" ran though my mind as I wondered if I would live. I tapped back into the reiki energy and spirit guides and powered on for the love of my sweet, kind mother. Me living abroad for so long was hard enough on her. I couldn't let this happen to her.
After a few hours, maybe less, maybe more, I'm not sure; my mind and body were in complete survival mode and I had no conception of time or space, I saw a dim light. It hardly looked like much of anything. Was it even a light or a mirage? As we drew closer I was exhuberantly relieved to see that it was the lights of Machhapuchhre Base Camp. It was still dark as we crashed into the dining room where many of the porters and guides were sleeping. Our abrupt arrival woke some of them up. Ajaya took my pulse again and asked me how I was feeling. My pulsing migraine had subsided somewhat and on the whole decent, I did not vomit. He suggested we might want to call for a helicopter or continue walking down to Deurali, but I was exhausted.
"Let's sleep here" I said. "I think I'm ok."
"Are you sure, maybe we get a helicopter".
"No way, I said. I'm American. My health insurance sucks. It will be too expensive. And I'm not dying. We made it here. I'll be ok".
I got out of my wet clothes, drank a bunch of water, crawled in my sleeping back. He rubbed my hands and feet with friction to bring the blood back. I immediately fell asleep. He kept waking me every hour or so to see how I was. Still ok.
A few hours later, I shot out of bed. It must have been around 7 AM. I barely made it out of the sleeping bag. Projectile vomiting. Oh no! I cold hear some of the trekkers giggle at the sounds of my illness. But as I walked out, my looks must have given them quite the scare. I was covered in sweat and looked like death. Their laughter turned into half fear and half compassion. I stumbled back into my room and fell asleep until 11 AM. As I awoke, I felt both weak, yet strong. I had made it through the night. The new day had dawned. Another death, another transformation. Full Power. I looked at Ajaya and said,
"Let's go."
"Are you sure", he said.
"I am," I replied.
And off we went to Deurali, where we were supposed to meet Laurie. When we arrived, we were both surprised to discover that she was not there. We were told she went on. I just didn't have the energy to make it any further and by the looks of the sky, there was another storm coming in. The weather had dropped. It was getting cold. I drank a full bottle of water, crawled in my sleeping bag, tossed another two thick blankets that the guest house had given to me on top and went to bed. I was still sweating and knew I had a fever. But I had no strength to even eat. A few hours later, I woke up. I knew I needed my strength, so I had a bowl of vegetable soup with egg, drank some more water and went back to sleep.
I woke up at 5 AM. My fever was gone. The sleep and soup did me good. I had a power breakfast of porridge with fruit, muesli, honey and my protein powder. I drank some black tea as I spoke with a mom who was on the trek with her two twenty something year old daughters. The daughter was telling me about her dream involving the Australian, broody rock musician Country Barnett and an apathetic opening act on roller-skates. I brought me to her song "Avant Gardner" where she belts out her lyrics in deadpan angst. A few lines in particular seemed to parallel my day:
My hands are shaky
My knees are week
I can't seem to stand
On my own two feet…
Oh no, next thing I know they call up triple O
I'd rather die than owe to the hospital til I get old…
The paramedic things I'm clever cos I play guitar
I think she's clever because she saves lives
I giggled. I was starting to feel normal again. No stomach issues, no headache, no fever. Just overwhelming gratitude. I thanked Ajaya for his guiding me down and together we moved on. We were a power duo now. A forever bond had been formed. I asked him if this had ever happened to him before.
"No", he said.
I laughed and replied, "So I'm you're first. You'll never forget me".
"Jewel, how could I forget you" he said with his little Buddha, gentle smile.
Ajaya is very well spoken. He speaks and understand English perfectly. In his early twenties, he's already a Tai Chi master. Deep and philosophical beyond his years, pure, kind and sweet. I had such admiration for him. We spoke a few words on our path, but so much was said in the quite, interconnected depth of our silence. It's hard to explain if you haven't experienced it. Talking without words. I was happy to share this journey with him. I know many guides would have forced me to helicopter out. And I can already hear the comments that may come from others who think I should have. But other people's opinions do not hold any significance upon me any longer. I believe this journey unfolded EXACTLY as it should have. I later thanked him and told him I would not change another minute of it. What a gift this experience was. He flashed that Buddha smile and said dhanyabad, yogi master. Which means thank you in Nepali.
We stopped in Donovan for lunch. I was exhausted. He hadn't even broken a sweat. As I crashed on the outdoor picnic table gazing at the incredible scenery, we both started laughing out loud at the whole series of events. It's funny how you can do that when you are "out of the woods". We learned that Laurie carried on all the way on to the Hot Springs. That was a long ways away. He asked where I wished to say for the night.
"Let's go all the way", I said. "I've got this. And the hot springs will be my reward".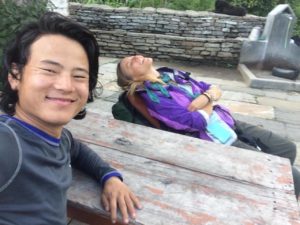 I didn't realize it at the time and I'm not sure if I would have made it if I did, but that day we clocked in nearly 11 hours of trekking, minus the 30 minutes at lunch and a few other 10 minute breaks. We laughed and shared stories on the journey. We stopped to pet the Himalayan wild life we encountered along the way. Large oxen and bulls, beautiful Blue Sheep, adorable talkative goats and dogs. The trail was long and winding. Up and down. When we arrived at the base of Chomrung, he pointed up to the top… way up to the top.
"We have to climb all the way up there", he said
"Oh my Buddha", I said. "How long will that take".
"Two hours up and 30 minutes down" he replied.
"Are you kidding me" I said. "2 hours up that mountain"! "LB, your killing me", I jokingly replied.
He smiled and said, "easy".
"Easy for you", I replied.
Well, I had made it this far. My strength and determination was taking charge. Something in me had to do it. I was determined to make it to the finish line on schedule. Yeah we had some delays, some setbacks. And I know it wasn't a race. But my internal drive motivation was taking control.
We stopped outside of a village guest house to draw up my energy. An old man was sitting on the stone terraces patio making a fence out of bamboo. He had a large knife and was slicing the long strips in half. Another older man came by to talk with us as the rest of the family sat on the edge to listen.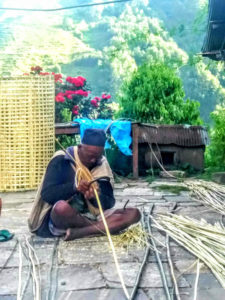 "Where are you coming from", the man gently asked.
"Deurali" we answered"
His eyes widened. "Deurali"! "And where are you going"
"Jhinu" hot springs we said
"To Jhinu from Deurali," you guys are crazy.
We looked at each other and laughed. We sat and chatted with them for about 5 or 10 minutes and onwards we climbed. I moved slow, but steady. It was so effortless for the little Buddha.
"My little Buddha, are you even tired", I said.
"No", he laughed.
"Maybe you should run" I said.
"Yeah, why not" he smiled.
And on he ran to the next level. When I finally reached him, he was sitting on the edge of the steps, laughing.
"Show off", I said.
As we continued onward. We stopped to take many photos at each of the view points. At one spot we came across the sweetest black and white goat tied to a post. It looked at me and started talking. I went over to pet it. She seemed like she was begging for me to take her off the rope so she could run wild. We played with the her for a few minutes. She loved the attention. As we walked off, she cried out loud. It was breaking my heart. I wanted to take her home with me. I can still hear her calling. Kept turning to look at her as we climbed upwards. What could I do. I sent her some reiki energy and a prayer. I'm sending her another prayer as I write these lines. May she be safe and find peace up in the village.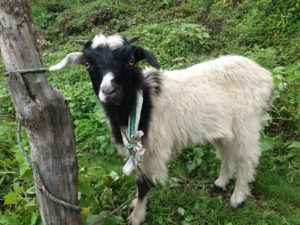 When we reached the top to the little Tibetan town, I spotted a German Bakery serving chocolate brownie cake. I had to indulge! I ordered it from the kind Tibetan woman and sat at a table outside gazing at the vast hillside I had just climbed. The terraced landscape, the greenery, the goat somewhere down in the valley. It was an incredible sight.
After the bakery the entire trek was downwards. 30 minutes straight down. I'm not sure which I found harder. Climbing up the tiny imbedded rock stairs or the decend down. We crossed the suspended bridge and finally, made it to the finish line. The inn was so cute and a refreshing site. It was multi colored and reminded me of a children's playroom. I saw a couple I had met at ABC.
"You made it" they said.
"Yeah", I replied.
"We heard what happened, your story is already a legend"
"Ha" I laughed.
I was so tired but I was still standing, backpack and all. As I spoke with them for a few minutes.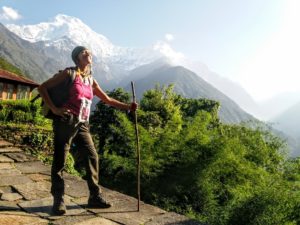 Ajaya had gone to look for Laurie. When he came back I was just standing and reflecting with my backpack still on me.
"Jewels, relax, take off your backpack and sit a while, or do you want to trek some more", he said.
Honestly, at that point I could have kept going. It had been an 11 hour day and we were on the trail for 8 days, but I felt that I could have done anything. It was one of the most powerful experiences of my life. And I was ready to do it all over again. And I know someday I will. Perhaps even before I leave this beautiful country of Never Ending Peace and Love.
But not before a long soak in the hot springs. Little victories, big reward. Namaste!
Now let's hear from you. Many of you are on the same journey and can offer insite. Tell us how you would describe karma in the comments below. As always, be kind and let the light shine.
Have a blessed day.
Jewels Bertrand
PS:
I'll be sharing spiritual tools and tips here on Shine Your Light as I journey across the globe to the core of the soul.  Sign up if you want to be inspired. And share this post with someone who you feel might resonate with it.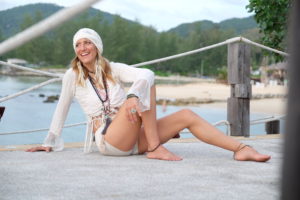 PPS:
If you would like to travel with me on a magical, tropical island in Thailand, I'll be hosting my next Sacred Healing and Meditation Retreat on January 29, 2018. All the details can be found at http://jewelsbertrand.com/retreat/
[optin-cat id="1995″]
https://www.jewelsathena.com/wp-content/uploads/2017/05/ABC-Feature-e1496232710774.jpg
525
700
Jewels Athena
https://www.jewelsathena.com/wp-content/uploads/2022/01/logo-white-300x113-1-300x113.png
Jewels Athena
2017-07-12 11:33:42
2017-07-12 11:33:42
An 8 Day Meditation Trek to Annapurna Base Camp, Nepal