Stress Relief Spotlight – Reiki
As I write today's blog entry, I've just come back from the Rocky Mountains where I completed my last Reiki training to become a Reiki Master Teacher. Now I am able to train others to be Reiki practitioners. For those of you don't know quite what Reiki is, let me tell you. Because Reiki is a beautiful way to manage stress!
My first attunement to Reiki was in early 2009. And it came to me just at the time I needed it. It was during what I call my Divine Storm. My father had recently past-away from ALS and within a year, my childhood kitty and chocolate lab also died. Oh, and to make matters worse, I had just been laid off from my job along with 2000+ others from my company. It was at this time that I felt such a loss of identity that I needed a spiritual retreat.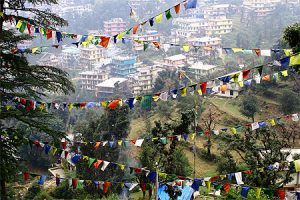 So I packed my bags, rented out my apartment and embarked on a three-month trip to India to further my yoga studies. I landed in Delhi and took an all day train ride up in the northern mountains to a little Tibetan town where the Dalai Lama lives called Mcleodganj. I was to spend the whole month there getting my Yoga 200 Hour Teacher Training Certification. I was so ready to delve into my studies, yoga and meditation. Honesty, I was exhausted. I had spent over a decade, wheeling and dealing in the demanding advertising world in New York City. All the while I was living with the harsh reality that any day my father could lose his life. Over 10 years of intense stress! I had enough.
As I arrived in Mcleodganj, I thought I was going to be able to relax. Ha! Not quite. The universe had more for me to deal with. On my 2nd day, I was hit with Delhi Belly. Ever hear of that??? I'm sure you can imagine! I've never been sicker in my life! I won't get into the gory details but I was sick, in pain, dehydrated and delirious. At some point, I must have fallen asleep without locking my door. I had it unlocked because the yoga teachers were coming by to serve me with electrolytes and soup throughout the day. The lil apartment I rented was on the ground floor and there had been workers outside doing construction. At around midnight I heard a noise. In my hazy grogginess I looked up expecting to see one of the teachers… only to find a stranger in my home with his hand on my wallet and passport.
Holy Roar!
I don't know who entered into my soul but I screamed in such a low, loud roar that I scared myself. The man stared back at me wide-eyed with fear, dropped my belongings and ran for the hills. Me… I sat on my bed, motionless, not quite knowing what to do. Geez, what more could happen to me???
With my emotions completely out of whack, the kind staff at Himalaya Yoga Valley suggested that I see an amazing Reiki healer they knew of in town. The said it would bring me back into vibrational alignment. I didn't know much about Reiki at the time but I was desperate to try anything. So I went. I did three Reiki sessions in three days. I mean, I was off, so I was going for it. It's strange, it saw really subtle, but super powerful. It was like a spiritual awakening.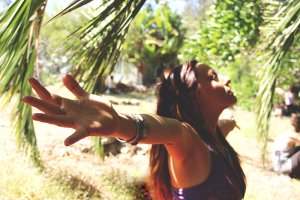 It both grounded me and connected me with spirit. From it, I drew the power from within, was able shake away my fears; and gain the mental and physical strength to carry on with my month-long yoga teacher training. I passed the training with flying colors. Of course I did, my chakras where alive and spinning for the first time in years. I knew I had to help others experience this incredible sensation. So upon graduation, I headed to Nepal where I met a wonderful Reiki Master. Along with two other wayward siSTAR travelers I met on
a bus ride through Nepal, together we were initiated into the practice and became attuned to Reiki Level 1.
So what exactly is Reiki???
 Rei – means Universal or Divine Wisdom and Ki – means Life Force Energy. So Reiki is actually "spiritually guided, life force energy."
Reiki is a Japanese energetic healing therapy. In the East it's used widely. And over the past decade it has gained popularity in the West. Here's how the NCCAM, the Federal Government's lead agency for scientific research on alternative medicine describes it:
Reiki is a healing method based on an Eastern belief in an energy that supports the body's natural ability to heal. "It is natural and non-invasive. It is effective in relieving pain and reducing stress, restores and balances emotions and is effective in healing virtually all illnesses. It works both on your spirit-energetic level and the physical body."
How Reiki is Performed
The Reiki practitioner lays her hands on or above the recipient's body while the recipient is lying down or seated in a chair. Reiki can also be performed distantly, where the practitioner can perform a full session without actually being in the same room with the client. A session usually last an hour.
Whole Person Healing Properties
As Reiki treats the whole person — body, emotions, mind and spirit, the recipient can expect to feel more relaxed, peaceful and at ease. The sensation varies from person to person. Some clients describe it as a relaxing, gentle journey and other's have described it as feeling a powerful release of negative energies that upon leaving them, allows them feeling energized and vibrant. It's responds to what your body needs at the time and it will never feel the same.
I've been performing Reiki on clients since 2009. I owned a Reiki / Chakra Balance studio in Santa Monica, California and these days travel internationally helping clients in Greece, Thailand, Nepal and across the globe. I also work with clients via the phone or internet. The most common reasons clients come to see me is because they are feeling stuck in their lives, or they are experiencing emotional or physical pain. I love the before and after change from my clients when finished. They always look so relaxed, glowing and radiant.
If you're feeling out of balance physically or emotionally, you might want to consider giving it a try. Message me to have a free consultation. After speaking, we can schedule a treatment that works best for your needs
I am also holding private Reiki Level 1, Level 2 and Master classes. Click HERE for more info 
Here's to living Happy, Healthy and Stress Free!
Shine on,
Jewels Bertrand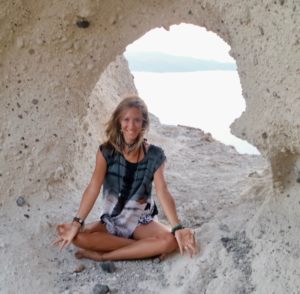 https://www.jewelsathena.com/wp-content/uploads/2014/11/reiki-definition-1-e1497286303284.jpg
472
700
Jewels Athena
https://www.jewelsathena.com/wp-content/uploads/2022/01/logo-white-300x113-1-300x113.png
Jewels Athena
2014-12-13 11:49:17
2014-12-13 11:49:17
Stress Relief Spotlight – Reiki